Katie Couric with Travel+Leisure
Katie Couric with Sarah Spagnolo (Travel+Leisure)
Stop Jet Lag on the Katie Couric Show
Courtesy of Katie - katie's Travel Toolkit
"How To Avoid Travel Mistakes
with Sarah Spagnolo (Special Correspondent, Travel + Leisure) and Katie Couric
Sarah and Katie discussing Stop Jet Lag
"Another mistake that can cause vacation turbulence is jet lag. But you say there's an app for that."

Katie on katie's Travel Toolkit
"Yes, exactly.




There's a great service called StopJetLag.com.




In fact, Travel+Leisure's Trip Doctor recently attacked this problem because jet lag can really make a difference when you land in a destination."

Sarah on katie's Travel Toolkit
"It can kill a couple of days if you're feeling really lousy."

Katie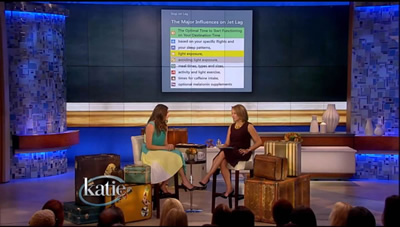 Courtesy of Katie - katie's Travel Toolkit
"Absolutely!"




"StopJetLag.com will actually create a custom plan just for you. And they'll send you a pdf.




They'll take into account your exact itinerary and recommend things like

when you should be waking up,
when you should be going to sleep,
what you should be eating, drinking,
when you should be opening your windows,
when you should be exposing yourself to sunlight,
when you should eat."

Sarah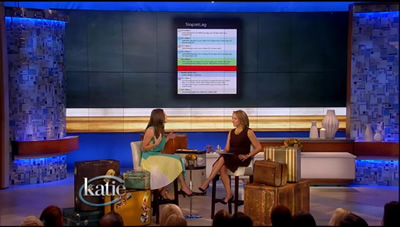 Courtesy of Katie - katie's Travel Toolkit
"I'm glad you said sunlight."

Katie
"All of these things really do make a difference. So this is a big issue and something that Stop Jet Lag is a great resource for."

Sarah
"Isn't technology insane!"

Katie
"It's amazing!"

Sarah
How to use Art and Science to Beat Jet Lag
Learn how to consistently beat jet lag by coordinating the major influences on jet lag with all your flights.
Join us to receive "The Art and Science of Jet Lag" series.
You too can achieve consistent results with the Stop Jet Lag Service
Stop guessing about the best timing for all the major jet lag influences on your trip.
No matter what flights you have booked, a Stop Jet Lag team member will carefully look at your specific trip. And only after evaluating how your flights are best coordinated with these natural jet lag influences will your Stop Jet Lag Plan be created, reviewed and sent to you.
Delivery of your jet lag advice
Primary delivery: Your Stop Jet Lag Plan delivered as a PDF email attachment.
In addition your Stop Jet Lag Plan can also be delivered to these mobile devices:
Mobile apps make using Stop Jet Lag even more convenient.
Get automatic jet lag schedule reminders
Quickly view jet lag advice
Instantly access your Stop Jet Lag recommendations
There are no roaming charges. Download the app and your Stop Jet Lag advice prior to flight. Internet access is not necessary inflight or on your trip.
Continue reading about the mobile apps...