All-Natural Cure for Jet Lag: Travel+Leisure
"This All-Natural Cure for Jet Lag May Be the Best Thing Ever"
Travel+Leisure: Travel Tips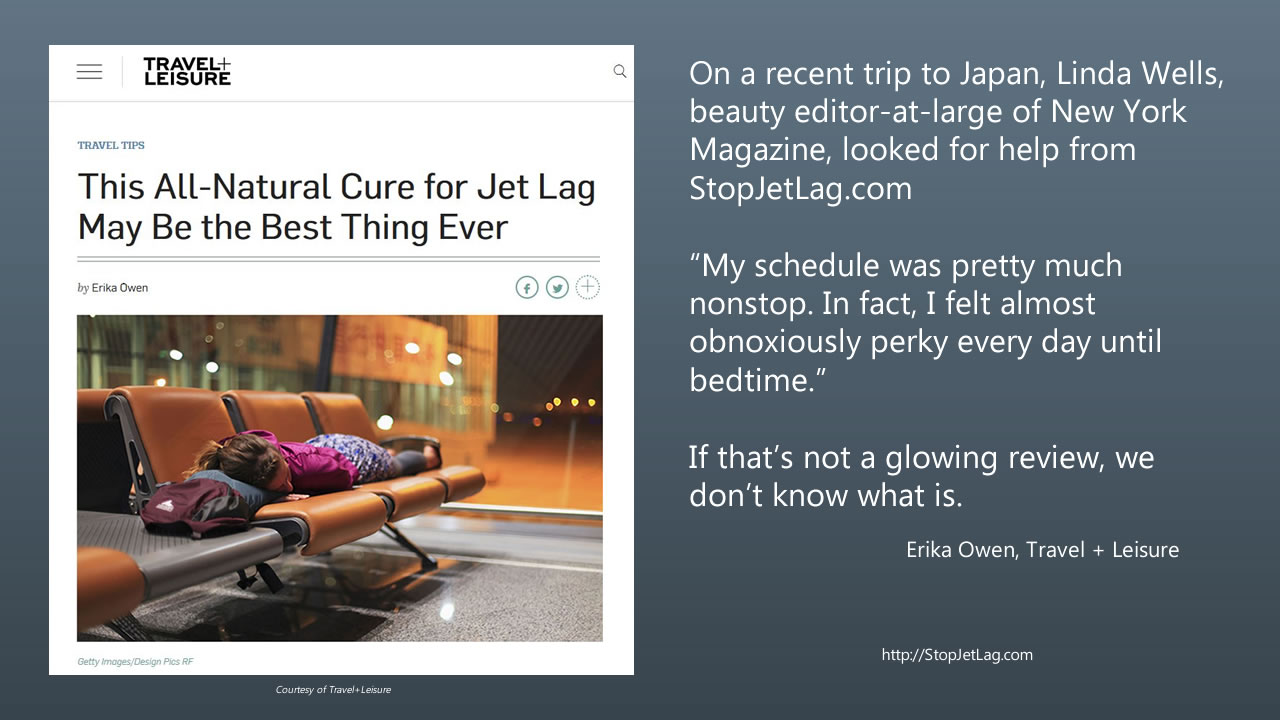 The cure for jet lag is just about as elusive as the Fountain of Youth (with much of the same effects, we might add). Whether it's the controversial—and incredibly speedy—cryotherapy method or a long list of vitamins and "best practices", many have tried their hand at eradicating what is very much the worst part of a long-haul flight. But it seems Linda Wells, beauty editor-at-large of New York Magazine, has put her support behind one potential cure, and after hearing about it, it practically sounds too good to be true. On a recent trip to Japan, she looked for help from StopJetLag.com —a service focused on providing travelers with custom plans including what to eat and drink, when to eat, when to sleep, when to put yourself in front of some bright light, and when to take melatonin (optional).
Each plan is based off flight length and destination.
"For me, that meant a high-protein breakfast and lunch the day before my departure, and then no caffeine and light meals on the morning of my flight," Linda Wells The CUT
writes Wells.
"I nodded off in the airport lounge and fell asleep immediately after takeoff. I dozed a good eight hours, switched my watch 13 hours ahead to Japan time, and ate nothing on the plane until hour ten. When I arrived at my hotel around 5 p.m., I took a shower and made a reservation at a sushi bar for 8:30 p.m. Back at the hotel at 11, I popped a melatonin pill and slept until 6:30 a.m., which is more sleep than I get at home. My schedule was pretty much nonstop from then on, and I didn't drool or pass out once. In fact, I felt almost obnoxiously perky every day until bedtime."
If that's not a glowing review, we don't know what is.
You can read all about Wells' experience over on The Cut.
Discover How To Beat Jet Lag With This Free Series
Make your next trip more enjoyable and productive without wasting your valuable time experiencing jet lag.
You too can achieve consistent results with the Stop Jet Lag Service
Stop guessing about the best timing for all the major jet lag influences on your trip.
No matter what flights you have booked, a Stop Jet Lag team member will carefully look at your specific trip. And only after evaluating how your flights are best coordinated with these natural jet lag influences will your Stop Jet Lag Plan be created, reviewed and sent to you.
Delivery of your jet lag advice
Primary delivery: Your Stop Jet Lag Plan delivered as a PDF email attachment.
In addition your Stop Jet Lag Plan can also be delivered to these mobile devices:
Stop Jet Lag Mobile

Mobile apps make using Stop Jet Lag even more convenient.
Get automatic jet lag schedule reminders
Quickly view jet lag advice
Instantly access your Stop Jet Lag recommendations
There are no roaming charges. Download the app and your Stop Jet Lag advice prior to flight. Internet access is not necessary inflight or on your trip.
Continue reading about the mobile apps...