Buy Now, It's Risk Free
Don't let jet lag interfere with the enjoyment of your holiday or affect your productivity on a business trip. Order your customized Stop Jet Lag plan today. It's quick. Easy. And at $45.00, it's an incredible value for the money. You have nothing to lose with our 100% money-back satisfaction guarantee.
Follow These 3 Easy Steps to Stop Jet Lag
Confirm your normal eating and sleeping times
Give us your flights (including connections)
Sign up with your credit card and receive your customized Stop Jet Lag Plan
I want to Stop Jet Lag now.
I'm ready. Sign me up.
Use this secure Stop Jet Lag order form to enter the flights for your trip.
Leaving soon? Expedited service is available for delivery of your Stop Jet Lag Plan.
(You will not be charged if we cannot get your expedited Stop Jet Lag Plan PDF to you before your flight)
Your
Stop Jet Lag
Plan order information is private and secure

I have my flights in
"I cannot recommend it enough. It's a great program and really works! I've travelled a lot and I've never experienced a lack of jet lag like this."
Patti Clark
'This Way Up' book tour from New Zealand to San Francisco
Your StopJetLag Plan Agenda
Your StopJetLag Plan Agenda is the key to when you should follow the scientifically based timing for the major influences on jet lag.
You should read this before your trip and it is best to take a printed copy of your StopJetLag Plan with you on your trip.
StopJetLag Trip Calendar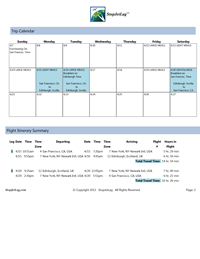 View a sample of a personalized plan »
Your StopJetLag Additional Trip Notes
Your StopJetLag Trip Notes are written up when your Plan is created and reviewed to help you understand the nuances that apply to your trip.
You can also have these notes read to you in the StopJetLag app.
StopJetLag Trip Notes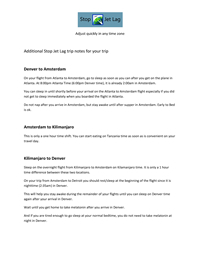 View sample explanatory trip notes »
Your StopJetLag Mobile Notifications
The StopJetLag Mobile App can keep you notified about the best times for the major influences while you are traveling.
No internet is required after you initially retrieve your StopJetLag Plan info to receive these notifications.
StopJetLag Mobile App